Weddings are all about the [Details]! They are what make your wedding different from the next and what helps your wedding to be [published]! This fabulous wedding is an example of how the [details] make all the difference.
When I talked to Ashley & Dan about what they wanted on their wedding day, they were a little concerned that their wedding would turn out like every other wedding that family, friends, and each other had been to. Ashley's home town of Fort Pierce only has a few venues to choose from and they are the same ones that other friends in their "circle" had chosen for their nuptials, so [An Affair to Remember] had to make their special day stand out! Ashley [loves] the outside, but does not enjoy the heat of Florida, so [AATR] had to bring outside, inside and it was all about the [DETAILS]!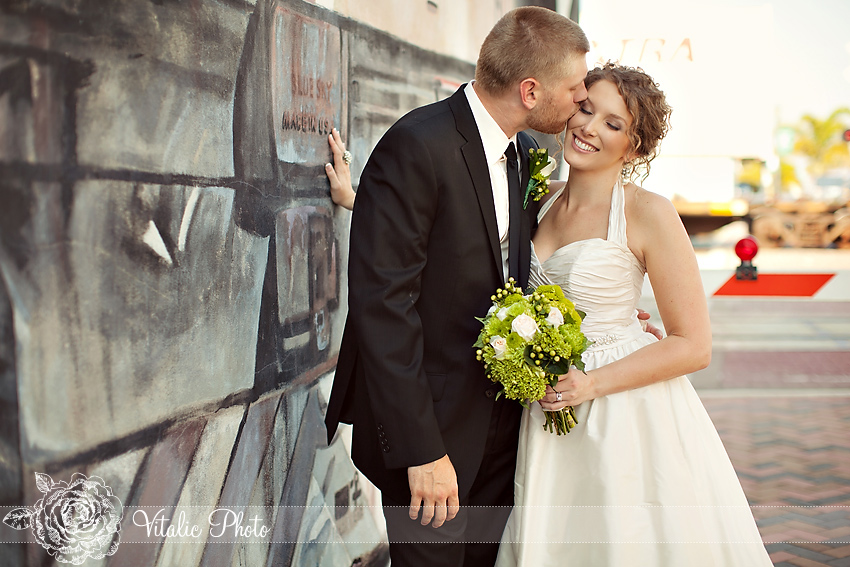 To start with the church that the ceremony was held at is breathtaking and did not need much added to it. Unfortunately, the church had decorations in the sanctuary that were not "pleasing" to the eye. They also had decorations on the stage that the bride was not thrilled about. To make it look different [AATR] decided to bring in vibrant crate and myrtle trees. Not only did this bring the outside, inside but it also made all the decor in the church [fade] away!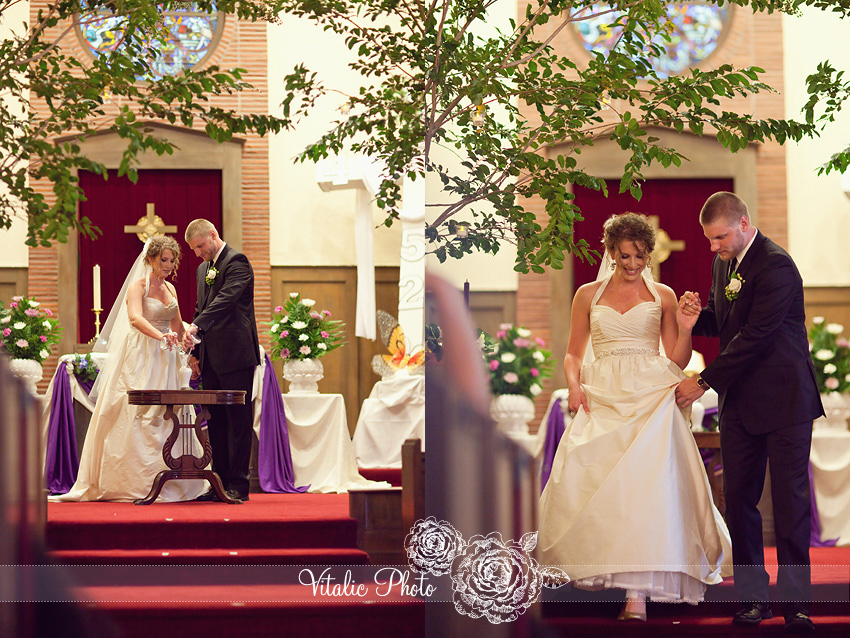 Bride and Groom formal photos: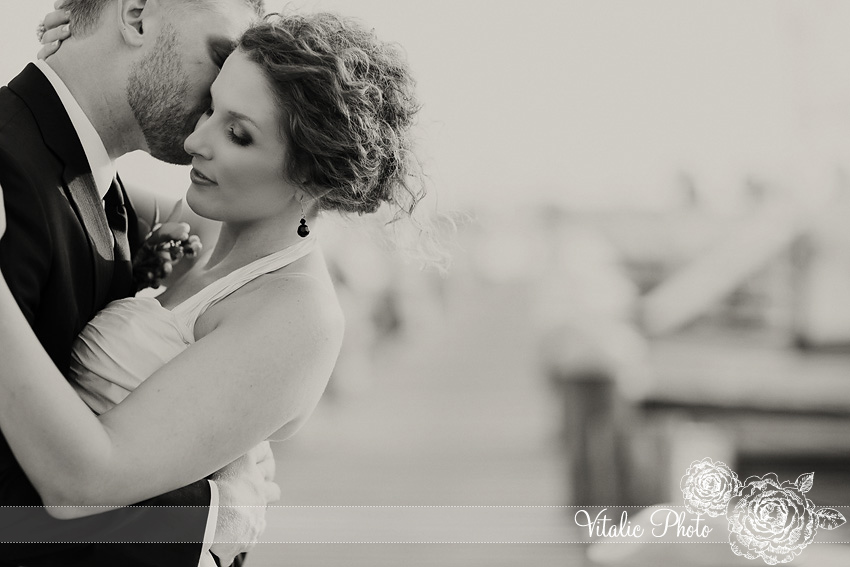 Now lets head on over to the reception! The Pelican Yacht Club is a beautiful venue but the bride and groom wanted it to look completely different from what anyone had ever seen there! Since Ashley & Dan wanted a [green] wedding (not only "I <3 the Earth green, but als0 the color green) we made it happen! First [AATR] decided to bring in market lighting so although inside, everyone felt as if we were underneath the night sky.
During the day (to make the ceiling disappear we added the hanging lights)- that turned into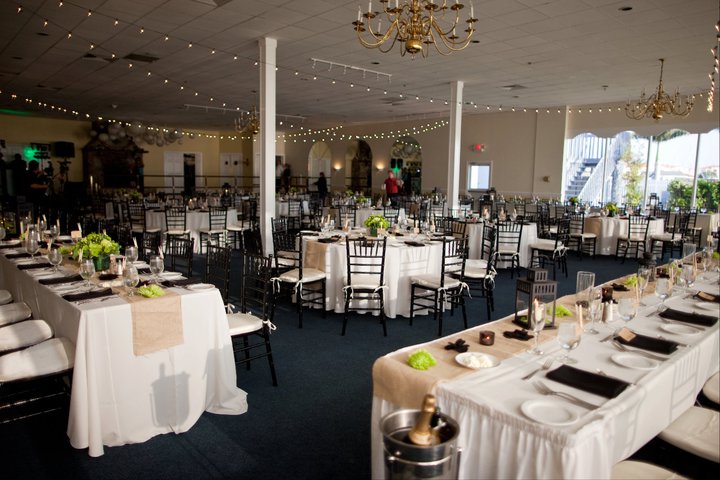 when evening sets (no more ceiling)…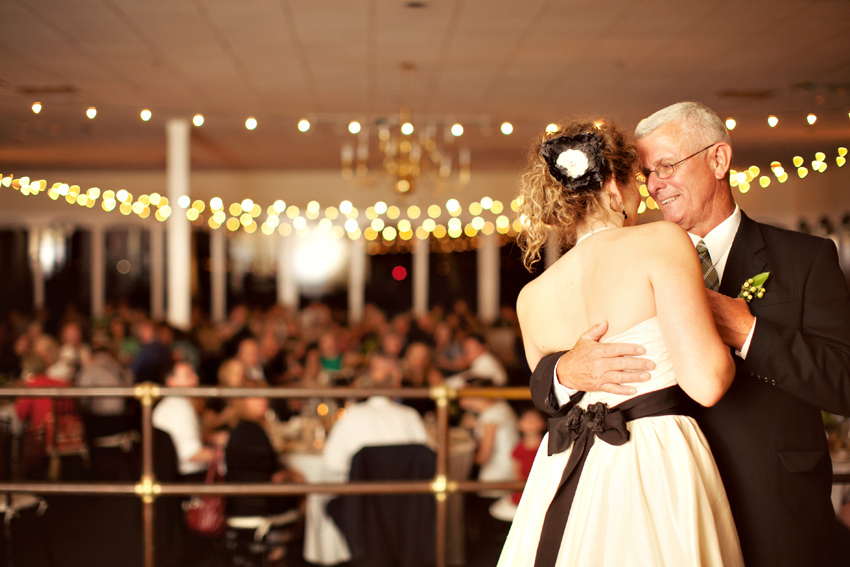 Let's talk [linens]. If you are on a budget and can't spend all of your money on linens, an easy way to do this is add a [runner]. Ashley & Dan (who I will know refer to as "A & D") wanted to use white linens, so [AATR] decided to add a burlap runner to make it [Eco-Chic] and add an element of texture.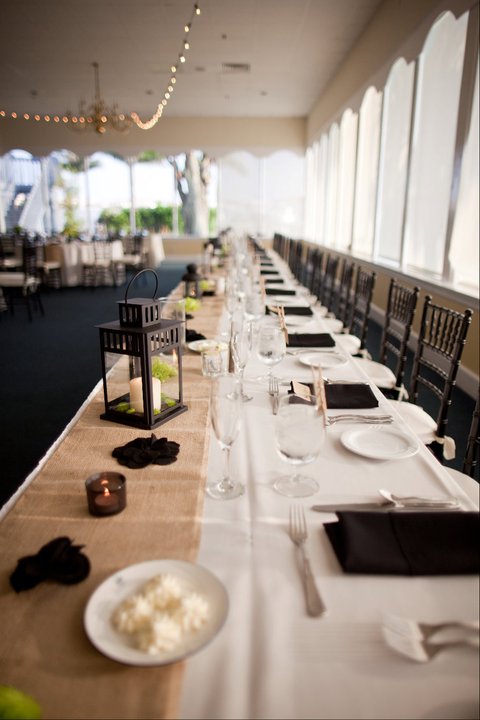 Another way to save a little is to use centerpieces that are not flowers! Now all my [florists] please do not start yelling! We suggest that you do every [other] table with floral and then chose an item that goes with your [theme] for the other tables. For [A & D's] special day we used fabulous Ikea lanterns that we filled with candle light, river rocks, and [green] button mums.
Another special item that was added to this [Eco-Chic] wedding was fabric flowers. [AATR] placed the fabric flowers between the lanterns, candlelight, and [lime green] spider mums on the burlap runner! They were fabulous!!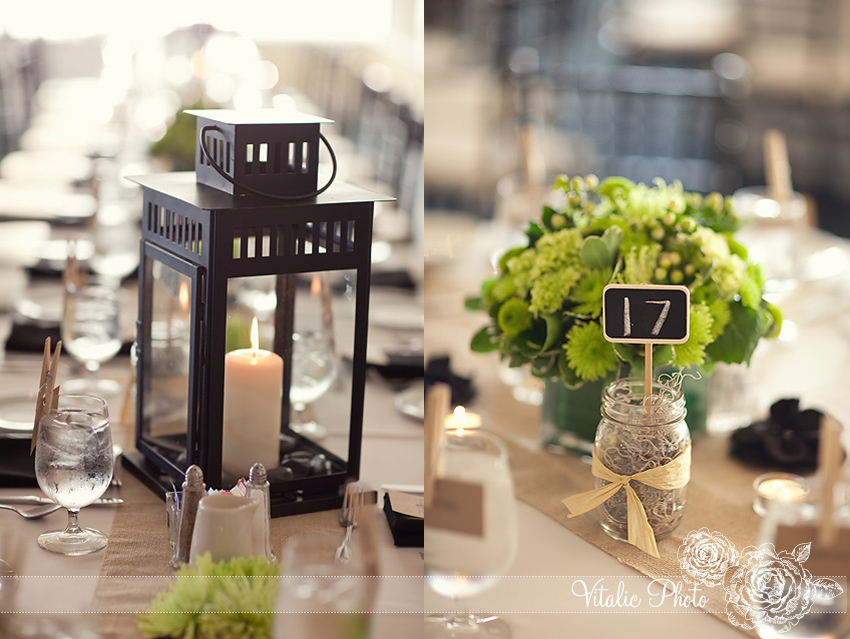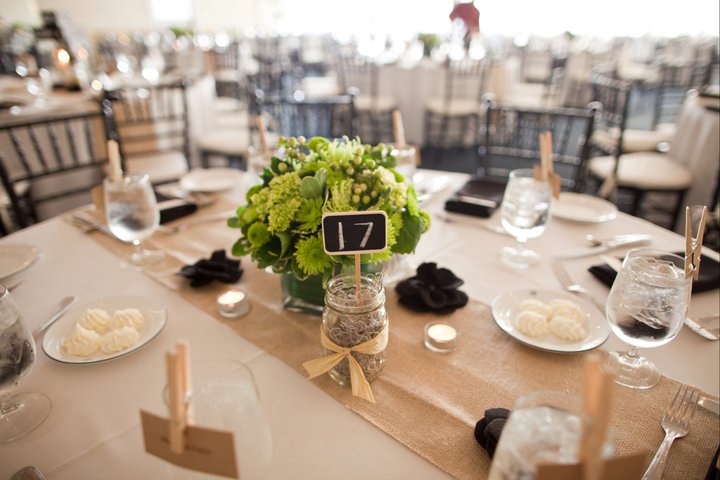 Another [detail] that [AATR] brought into the Pelican Yacht Club was white [paper lanterns]! We decided to hang them just above the dance floor to make it stand out. We also pin spotted the lanterns to give them illumination. For cocktail hour the bride wanted the opposite feel with [black] & [green], instead of the Eco-Chic. We hung extra large black paper lantern with crystals hung from them, and used black linens for the cocktail tables.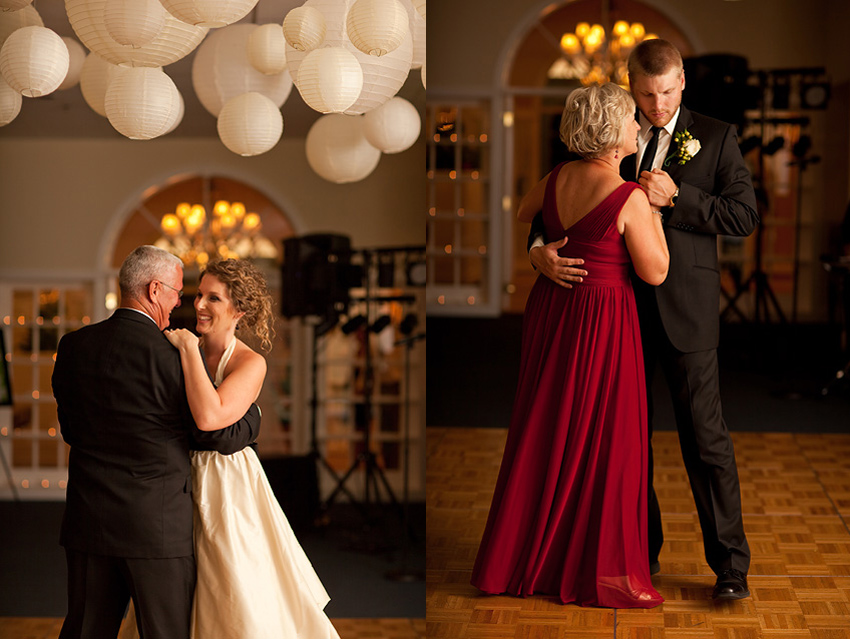 Some other [details] that were added were cardboard menu cards, place cards, and signage. [AATR] also brought in a wood wrapped mirror that we put a black chandelier vinyl. Mason jars filled with moss and chalkboard signs were used as table numbers.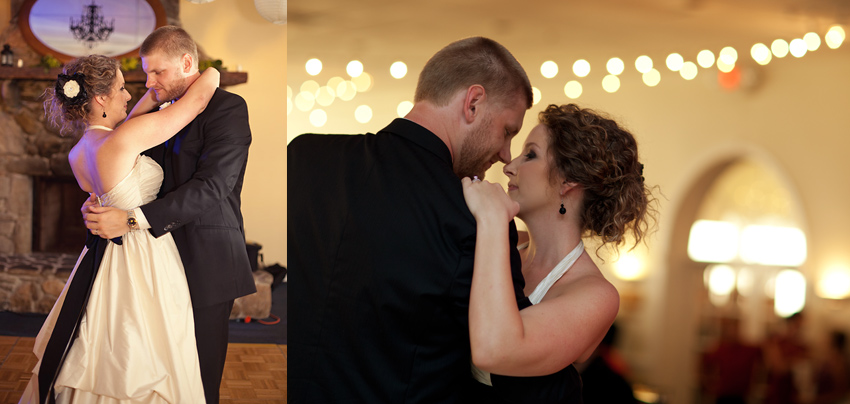 We just can't say enough about this wonderful wedding. The [details] are what made A
& D's wedding stand out from all the others. Check out the other pictures from Vitalic Photo of Ashley & Dan's fabulous Eco-Chic wedding! If you want [An Affair to Remember] to help your dream [details] come to life please feel free to contact us!!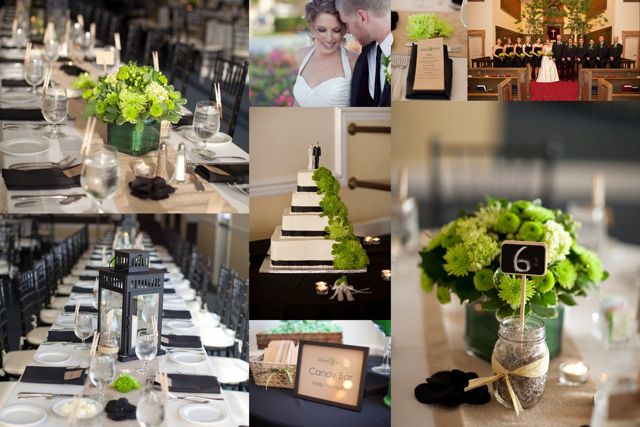 [Ceremony] First United Methodist Church Fort Pierce
[Reception] Pelican Yacht Club
[Cake] Amy's Cakes & Catering
[Linens] Unlimited Linens & Party Rentals
[Entertainment] Entertainment Connection
[Photography] Vitalic Photo
[Videography] Cinematique Films
[The Best Wedding Planners Ever] An Affair to Remember