Final Numbers
Final Numbers, whether you are planning a wedding or are already married, this phrase probably makes you grin and roll your eyes!
Final  Numbers are so important for your venue, your planner, your florist, your linens pretty much everyone, but nailing down this number can cause so much unnecessary stress. Let's start at the beginning. Your invitations! Choosing the paper weight, colors, sheen and embellishments, that's the fun part! When designing the RSVP (which is the french phrase: répondez, s'il vous plaît) be sure that the return date is reasonable. When your guests receive your beautiful invitation, they tend to need to check on a few things; if they have the weekend available, baby or dog sitter, travel arrangements etc. The actual time it would take for them to plan on attending your event or not- might take a little longer than expected. You would think it is a simple yes or no, but for most (especially out of town) it takes a little while.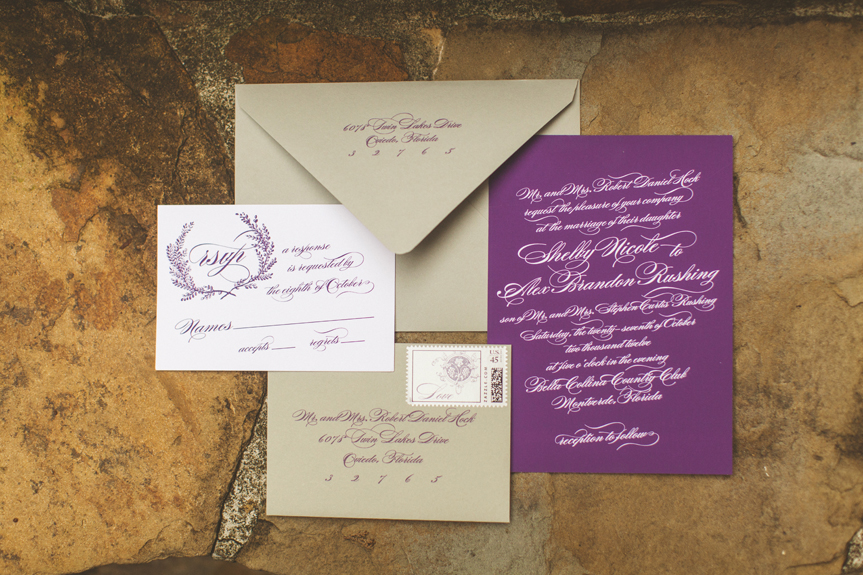 Invitation designed by Shock Photography and Designs, Photo by Concept Photography
You can read the blogs and the to do lists that are all over the internet, but you know your family and friends and you have to be realistic. We recommend you send out your invitations 2-3 months before you wedding. Why? Your RSVP date needs to be four weeks before the big day. Why so much time? Not even taking into account the fact that you will need time to track down those RSVP cards that are never sent back or never make it, The MAIN reason for the cut off date is because of your caterer. If you are using a hotel, country club or outsourced catering company, they need to know your final count… sometimes 14 days in advance. Your rentals (linens, chairs, chargers, stemware, flatware), number of centerpieces and even your cake size will depend on this number. Be sure to check the cut off dates on ALL contracts for the dates your final numbers are due.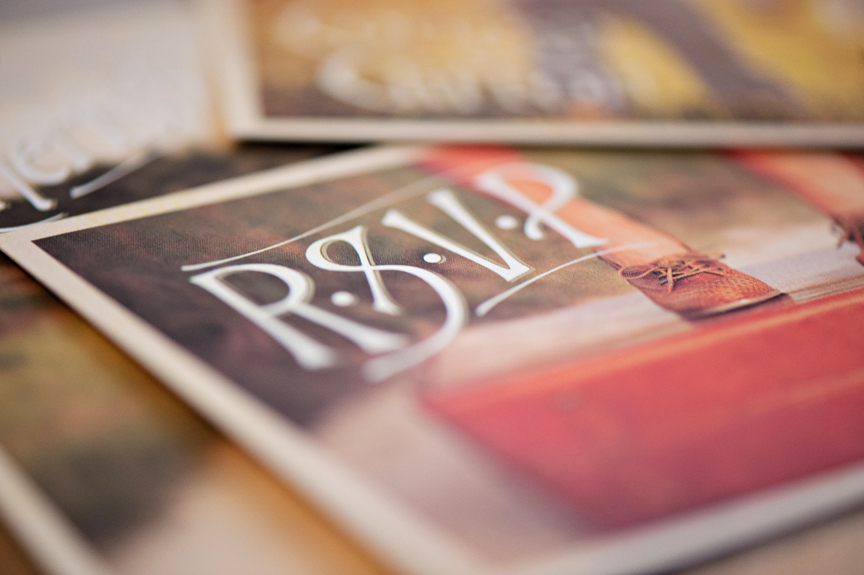 Invitations designed my Mama's Sauce, Photo by Kristen Weaver Photography
If you are doing assigned seating (which we always recommend)  or guests are choosing their meal, you need to know who is coming so you can place them at a table and make sure their meal choices is evident to the caterer.  Sometimes we see brides over invite, hoping that a large number will decline.  Although most statistics tell us that 20-30% of guests will RSVP with regrets in the end, you have to look at the time of year you are getting married and know that  we are in a state and area where theme parks and beaches are very attractive to out of town guests. Should you invite 300 guests and think that only 125 are going to show (please don't do this) you MAY end up needing to add additional coordinators, photographers/videographers, and banquet staff. You budget for125 people is blown when 240 show up.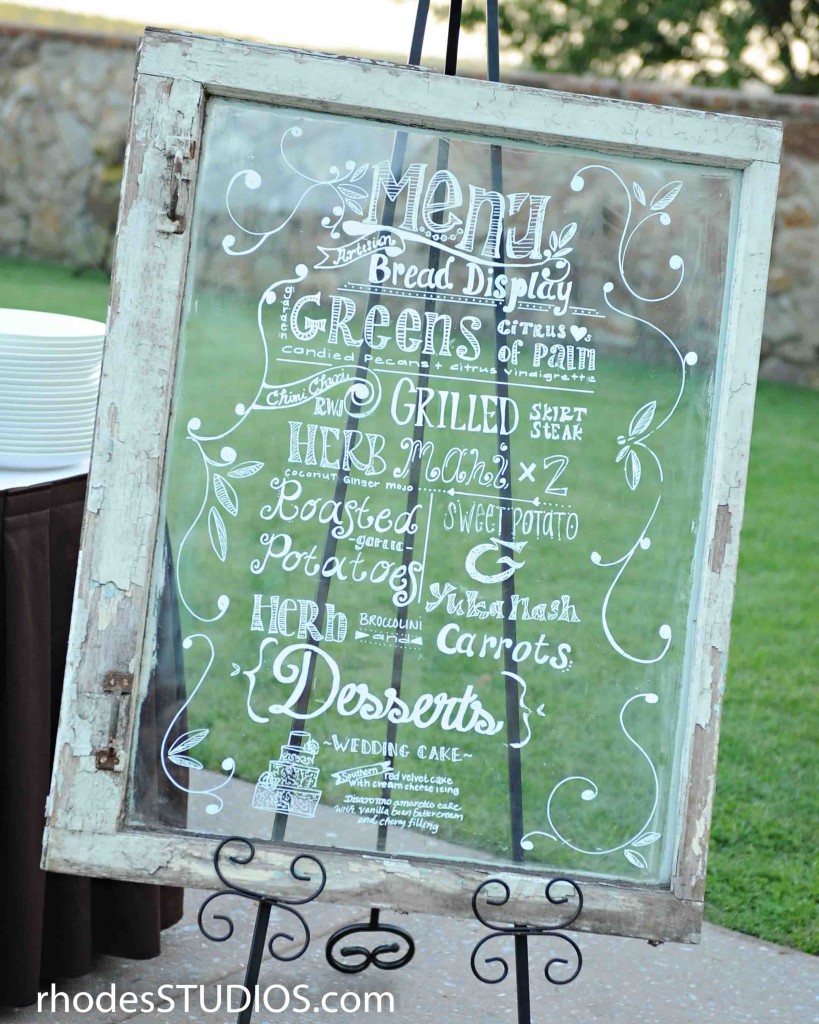 Rustic Window with Menu Designed by An Affair to Remember, Photo by Rhodes Studios at Bella Collina
Your final numbers are what you give to your planner to distribute to all of your vendors and final invoices are based on this number. Should you be doing this on your own (again, don't do this!) please know that your final numbers are just that… FINAL. You cannot decrease your final numbers but most places will let you increase.
Recently we had two brides who were receiving calls the week of the wedding (after final numbers were given) that guests we unable to make it. This WILL happen. Family issues, illness etc will find a way to at least one of your guests. They kept us in the loop which is always appreciated, but let me tell you the reason why this update is necessary.
Bride 1: She wanted to have the meals removed from her bill for these guests
Bride 2: She wanted to make sure the place setting were removed so that the seats at the table did not look empty.
Bride 1 does not understand final numbers for her caterer. The food has been purchased and is possibly already being put together in preparation for your wedding day. The Caterer/Hotel/Country Club is not going to remove this from your bill.  As frustrating as it is to pay for someone who is not there, this is what final numbers means. The cost of the food/ and the timeline for the staff has already been planned out. If your uncle cannot make the event, it does not mean that they can return the food or decrease the banquet staffs time. Even if someone cannot come the day of the wedding, you are still responsible for their spot.
Bride 2: She was only concerned for aesthetic reasons and did not want empty spaces at the tables. The only reason we would NOT remove these place settings is if it leaves a table too open. For instance, if you have a table of 7 at a 72″ round (enough for up to 11 people if using chiavari chairs) and 4 cancel, this would leave a very big table with only 3 seats. Although it may look empty for your dinner hour (or 45 minutes) the photos of the reception would over rule. This bride did understand final numbers, and understood that rental companies for her chargers, chairs, linens, custom flatware etc were holding these items on reserve for her event thus not letting the rental companies sell to another event.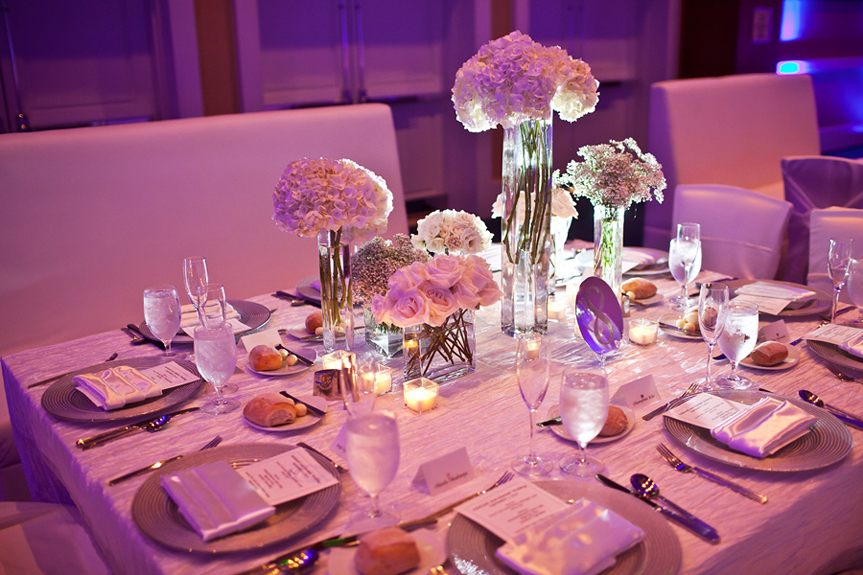 Floral by Raining Roses, A Chair Affair chargers, High back sofa seating by AFR. Photo by Collins Metu at the Hilton Orlando
We say this all of the time. Unless you have gone through wedding planning as a host/hostess, the RSVP does not mean much. It goes straight to the back burner as a maybe. Once you have been through the process and know how much goes into that one little yes or no… oh how everything changes. You make the time and figure it all out and send it back asap.
In all of these cases and many more (so much more), just let us guide you on what to do and what not to do. The time, money and stress relief will thank you. So remember, if you are going through the process and are invited to another event with a RSVP… disregard the "P" which stands for please and… switch that to asap!