Four Seasons
The Knot Market Mixer Orlando Florida
We were beyond proud to be chosen to host the Orlando Market Mixer for The Knot! This is the event of the year that industry professionals look forward and are sure to be present. We knew we had to impress those who see and do it all and were excited to take on the challenge.
The Knot gave us full free reign on the design and put us in charge of choosing the venue and I knew exactly which one I wanted right way. It is no secret to those who know our company know that the Hilton Orlando is among our favorites. With their new outdoor space (unlike any other) I was already devising the plan and presented to the Hotel and they were on board all the way! We wanted to showcase how the space really can work for year round use. We then came up with showing the space through the "4 seasons" of the year.
In order to separate the seasons more we had a food and drink choice in each to not only see but taste the different seasons.Thank you to the Hilton Orlando for going ABOVE and beyond for every detail! Under each separate season is the menu for food and bar. BRAVO to the chefs!
We must say that the success of this event was our partnerships. This event was nothing short of amazing due to all involved:
*Want to see it on video? You can! Click HERE
Venue: Hilton Orlando
Photographer: Kristen Weaver Photography
Designer/Planner: An Affair  to Remember
Floral and Décor: Occasions by Shangri-la
Furniture rentals: AFR
Rentals: A Chair Affair
Linen: Nuage
Chandelier: Signature Chandeliers
Photomingle
DJ: Dj Jacob Towe
Band: Leonard Brothers
Dresses: The Collection Bridal
Dance Floor Wrap: That's a Wrap!
Lighting: PSAV
Ice Bar: Ice Pro
Stationary: 5 Thirteen Designs
Grand Finale by the amazing Fireworks By Santore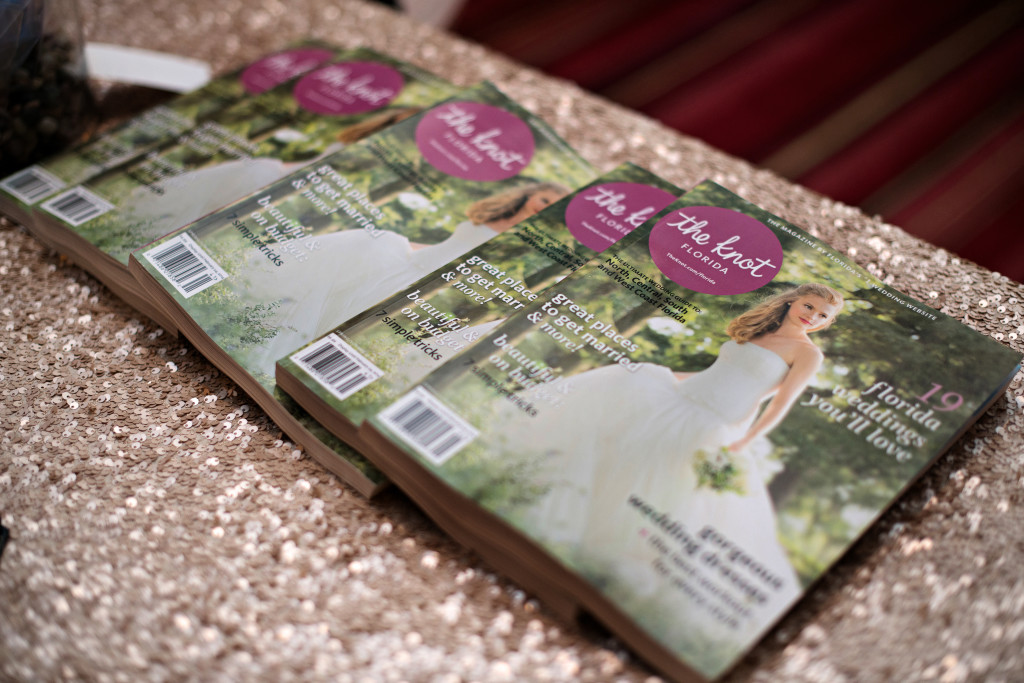 The Collection chose four gowns to each coincide for one of the seasons. As guests approached the registration table the four models in their gowns gave them a preview into the coming events outside. We have a floor to ceiling drape that was AMAZING from Swag Decor.
Next, as guests registered, we had divine appetizers for everyone to enjoy. By placing the apps on frames we were table to showcase the latest issue of The Knot.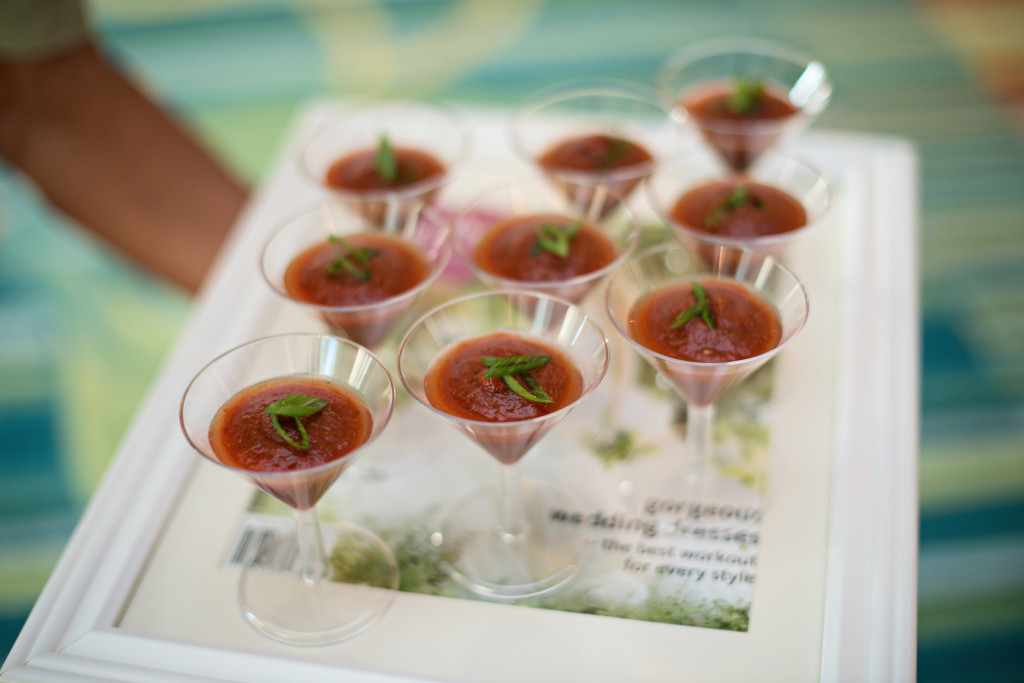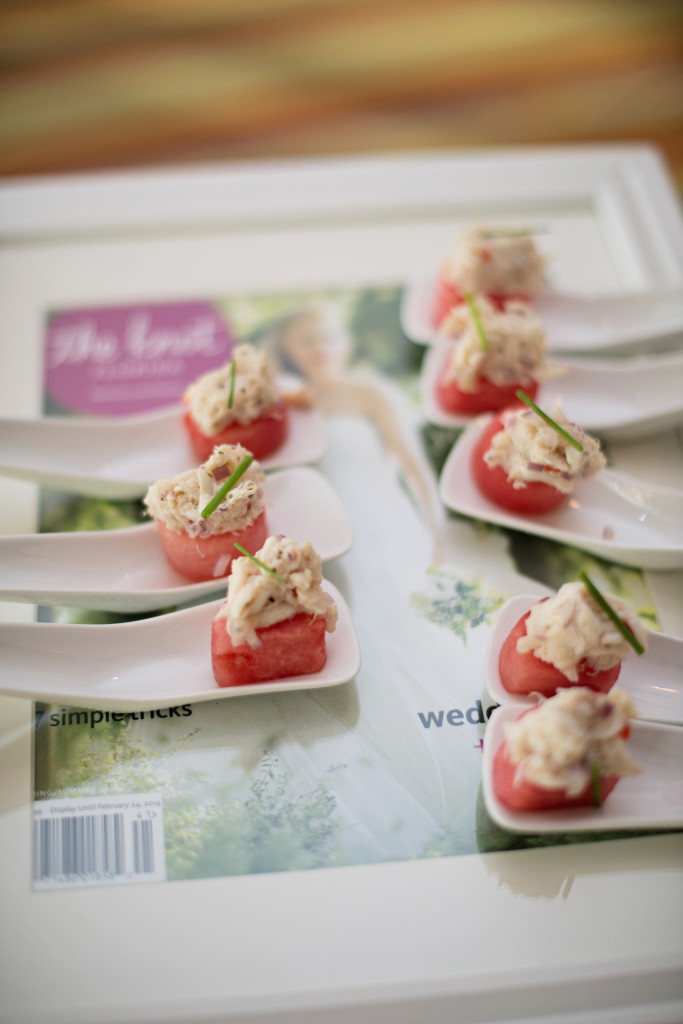 This amazing space is right here in Orlando Florida! You want to talk about any design ever and making it work perfectly, well, here you have it! From the fountain plaza that is a circular space with water featurers… yes!…more than one. Two go with the graceful bend of the design that leads up to the Sun Terrace. The other is a stand alone that is not only water but has 4 fire elements to it.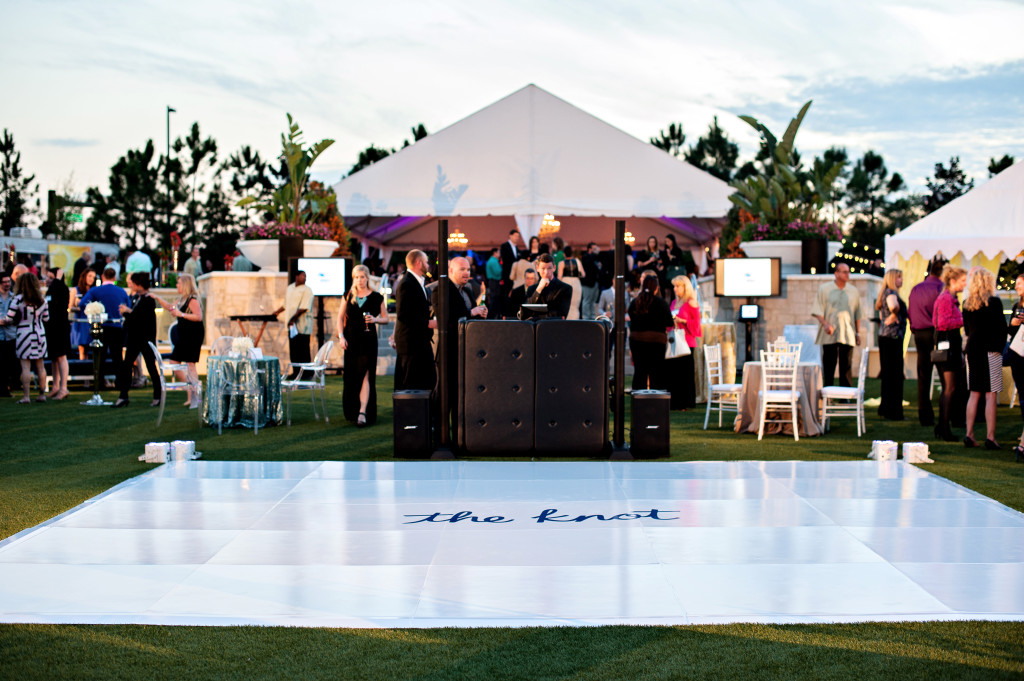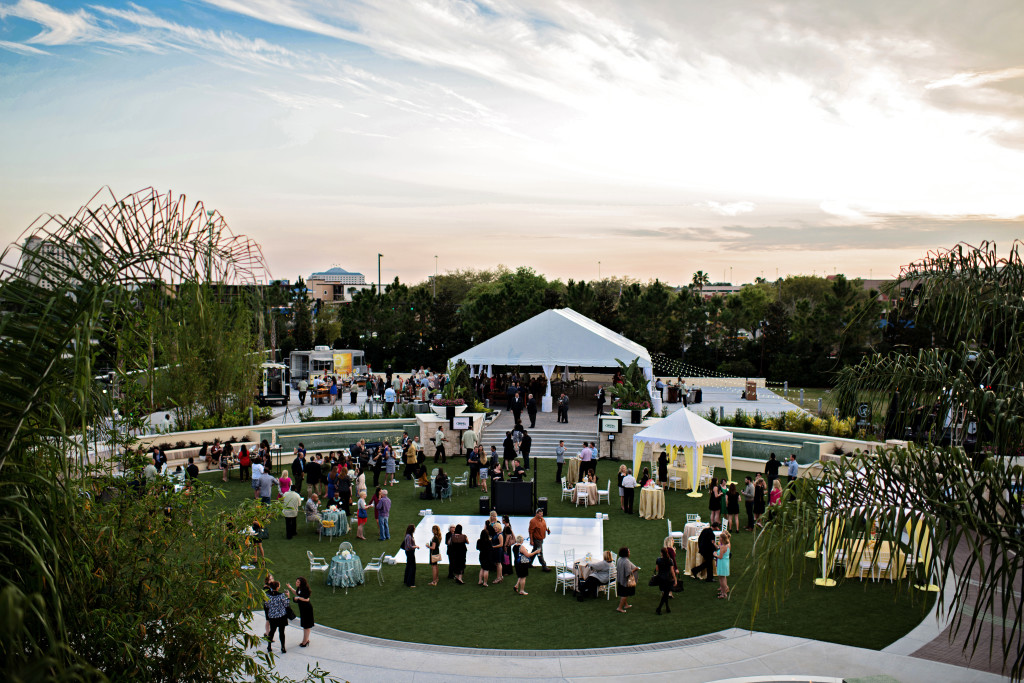 You can see two of the four sections we used (you read right! Their are four gorgeous spaces to be used). From food trucks, to a covered 40X60 tent with open space for your heart's content.This is the perfect outdoor space that Orlando Florida so desperately needed.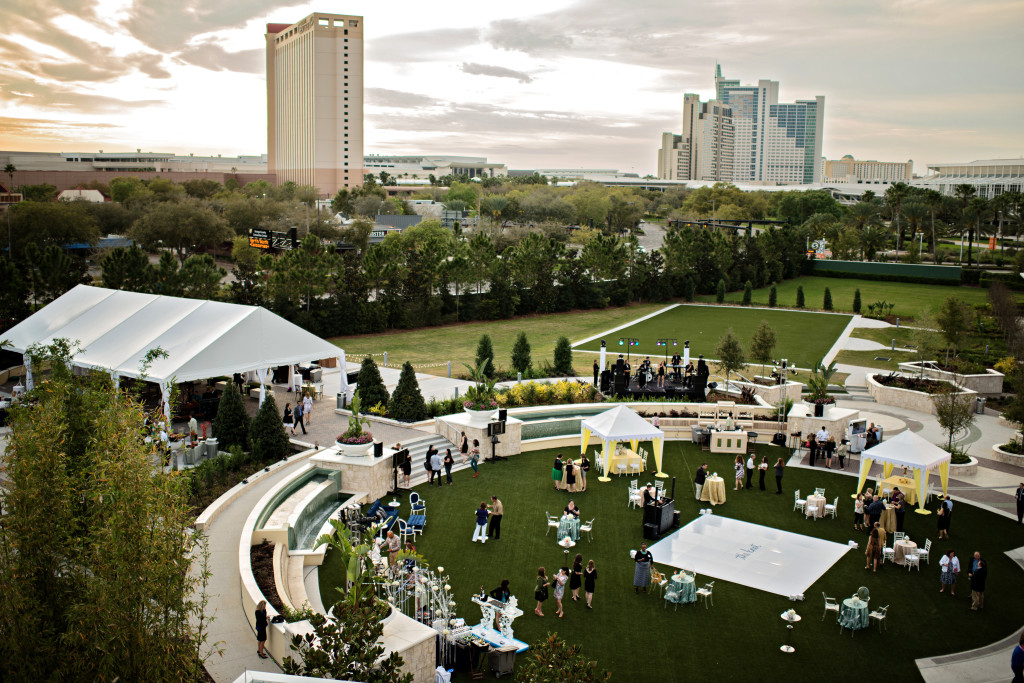 We will start on the upper level of the party. I know you just read food truck and are wondering where they were utilized… or just because you are a little hungry. Whatever the case we will start with decor of the fall nature. Occasions by Shangri-la created all of the floral and decor. Nailed the look!
TASTES OF FALL:
Bar: Jalapeno infused Martini with Honey Whip Cream *Personal Favorite
Local Seafood Chowder served in a Mini Boule
Sweet Potato Gnocchi
Sage and Lime Brown Butter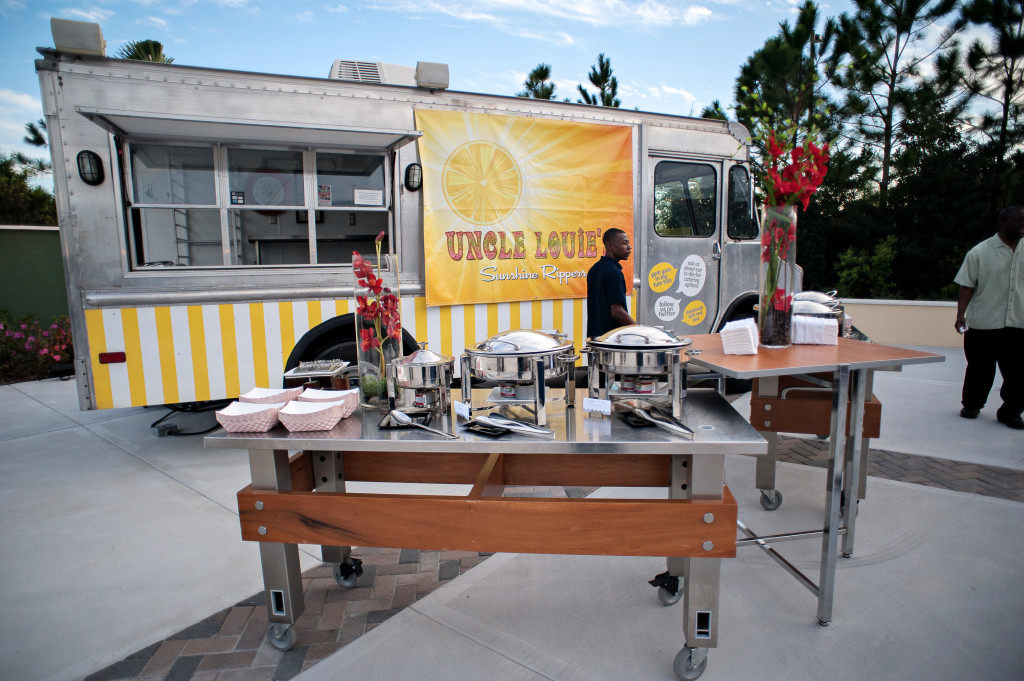 We split the seasons into two. Fall was countered by Spring to give the tented space a split down the middle of the noted colors of fall and the cheery goodness of greens/pinks and new beginnings!
TASTES OF SPRING:
Bar: Popsicle Mimosa
(2) Food Trucks:
Ms. Betty's Koja Food Truck
Tsunami Balls
Crisp Rice Balls with Chicken and Vegetables with a Sriracha Mayo
Kimchee Inspired Pork Lettuce Wrap
Napa Cabbage, Bean Sprout, Green Chilies
Every Day is Sindhi Day Truck:
Biriyani Chicken, Basmati Rice, Chicken Thighs
Spicy Mint
Vegetable Samosa
In the center of this area of Spring/Fall in a Dessert display: I don't think signs are required here because actual descriptions were left out.
(Shooters, Spoons, Vereens, and Tarts)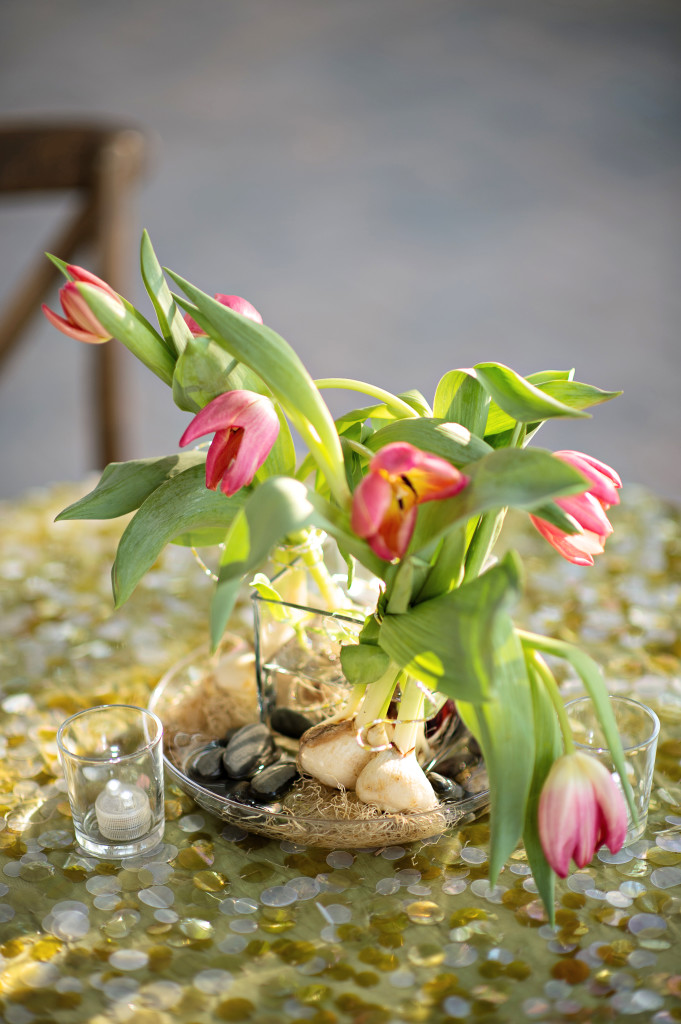 I adore the bulbs of the tulips exposed to show new life as well as the iridescent green sparkle linen from Nuage beneath. Below, see A Chair Affair's French chair that works perfectly for any season- here we placed it with spring for a contrast.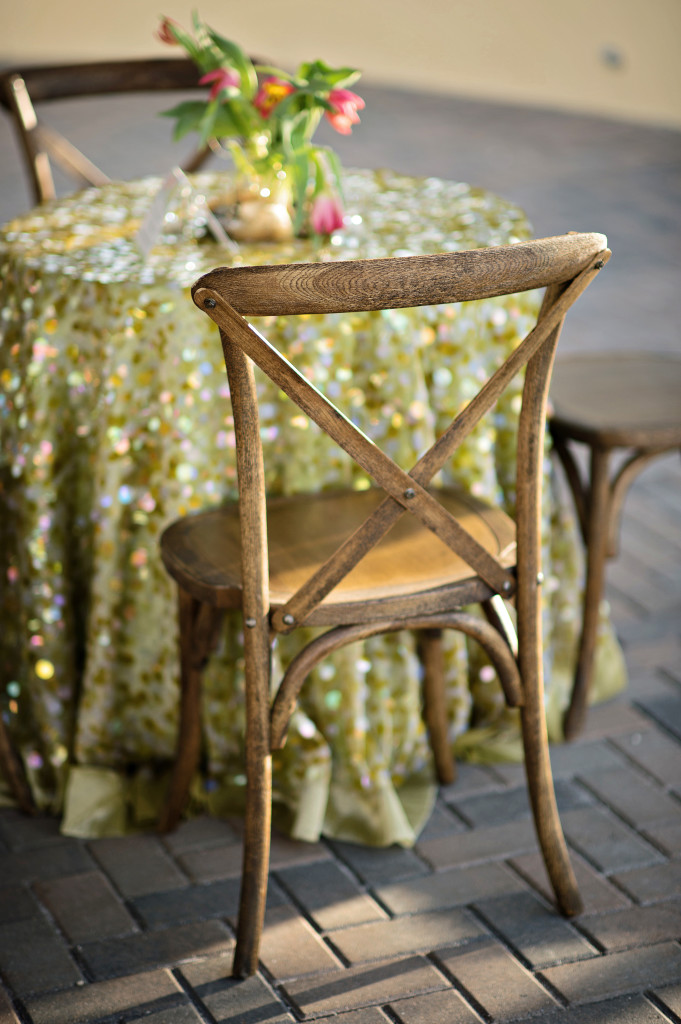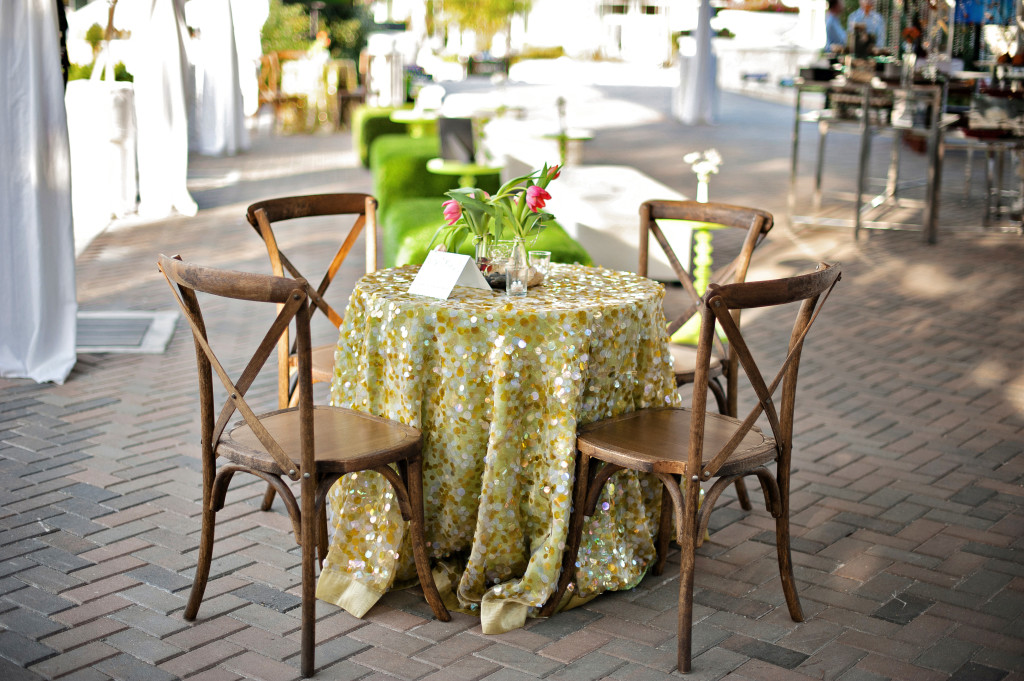 AFR Rocked it for us with their ottomans what we used for seating. WE like the lower seating for this area with the grass feature. The lime green "phoebe" tables might be one of my favorite details.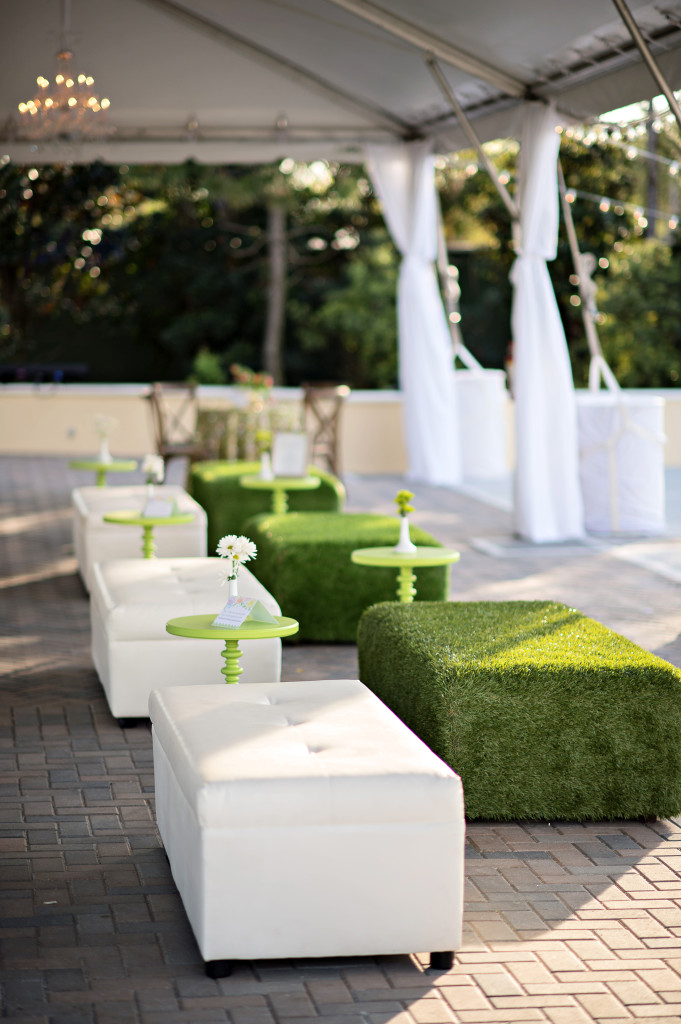 Onto the lower half of the party, we walk into Summer. With the cabana tents of BRIGHT yellow and white we added in and mixed textures and patterns. The cabana tents by Occasions by Shangri-la were the perfect "Hampton" vibe.
TASTES OF SUMMER:
Bar: Spiked Sno Cones
Upscale Summer Brunch
Colossal Shrimp Scampi with Grilled Fatunta
Ruby Red Watermelon and local Heirloom Tomato Salad
Ricotta Salada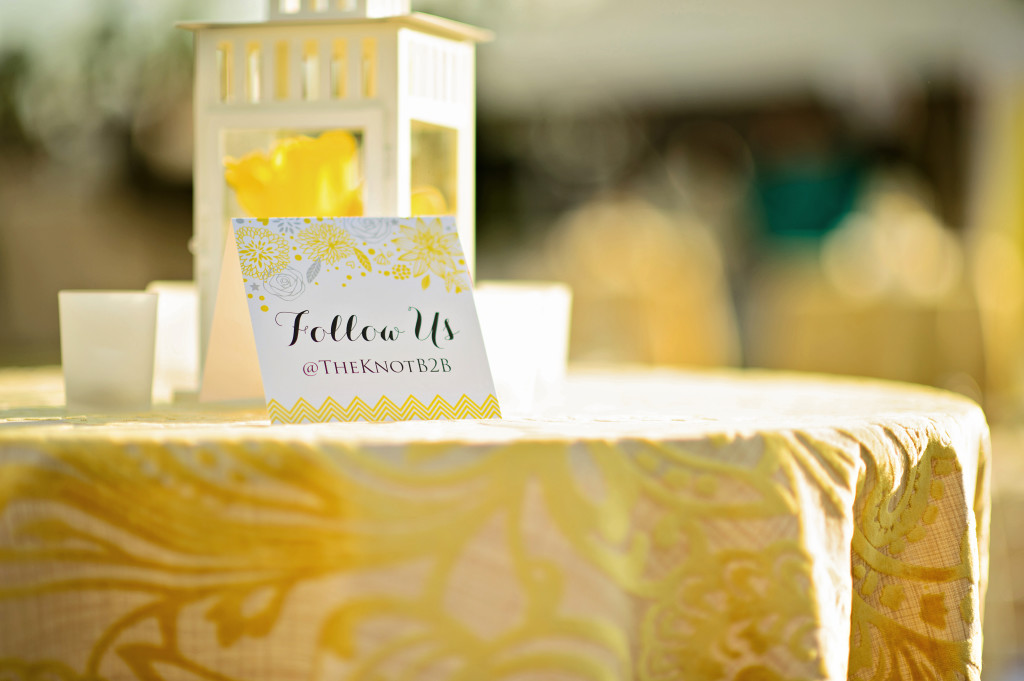 A Chair Affair's white chiavari chairs were the perfect bright balance we needed. The linen above is from Nuage and was most likely my favorite linen. It was yellow flocked on top of burlap. You could actually feel the texture!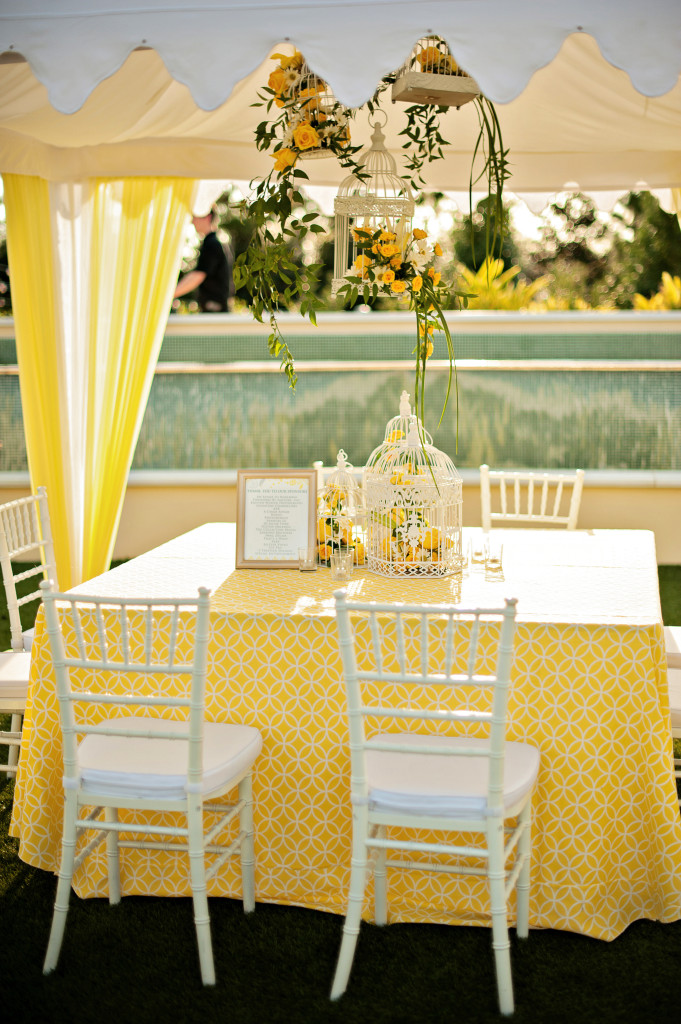 Directly across the Fountain Plaza lawn was Winter. We cornered this area with a bar completely made of ice with winter accents. We lit this in blue as it began to get dark. The hanging winter wonderland and backdrop was also by Occassions by Shangri-la. Mmmmm….sparkly!
TASTES OF WINTER:
Bar: Mexican Hot Chocolate
Slow Braised Cabernet Short Rib
Truffle Yukon Gold Potato
Zucchini Wrapped Quinoa
Milled San Marzano Tomato
Aged Balsamic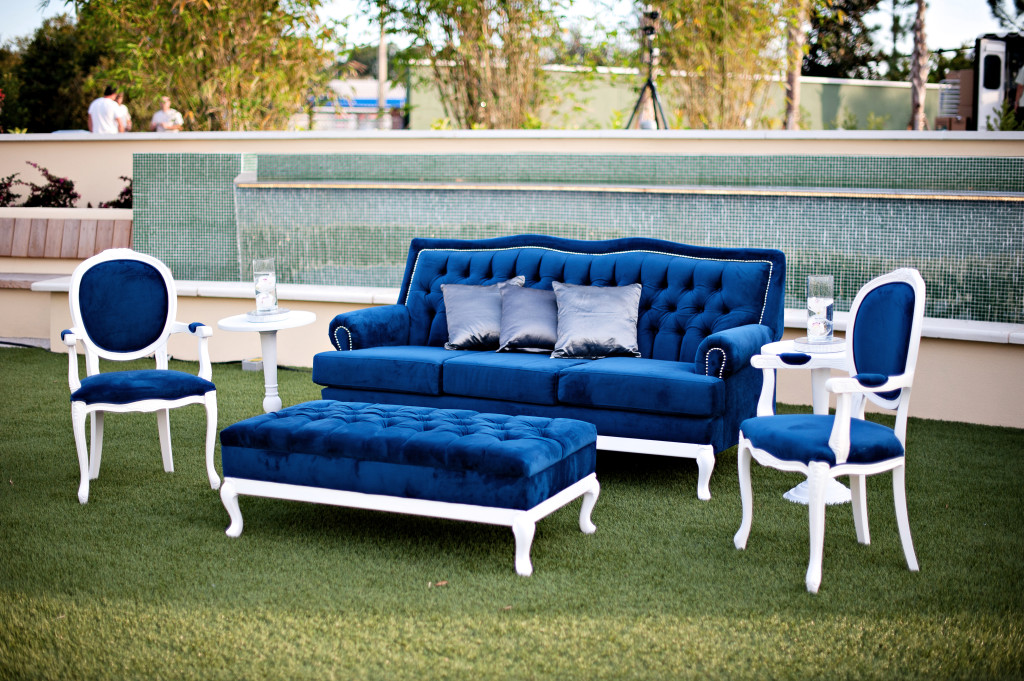 Our color palette for winter was pretty straight forward with blues, aquas and whites. We wanted it to be an obvious winter feel in this Florida sun! AFR had the PERFECT and I mean PERFECT collection for this area… and it was velvet!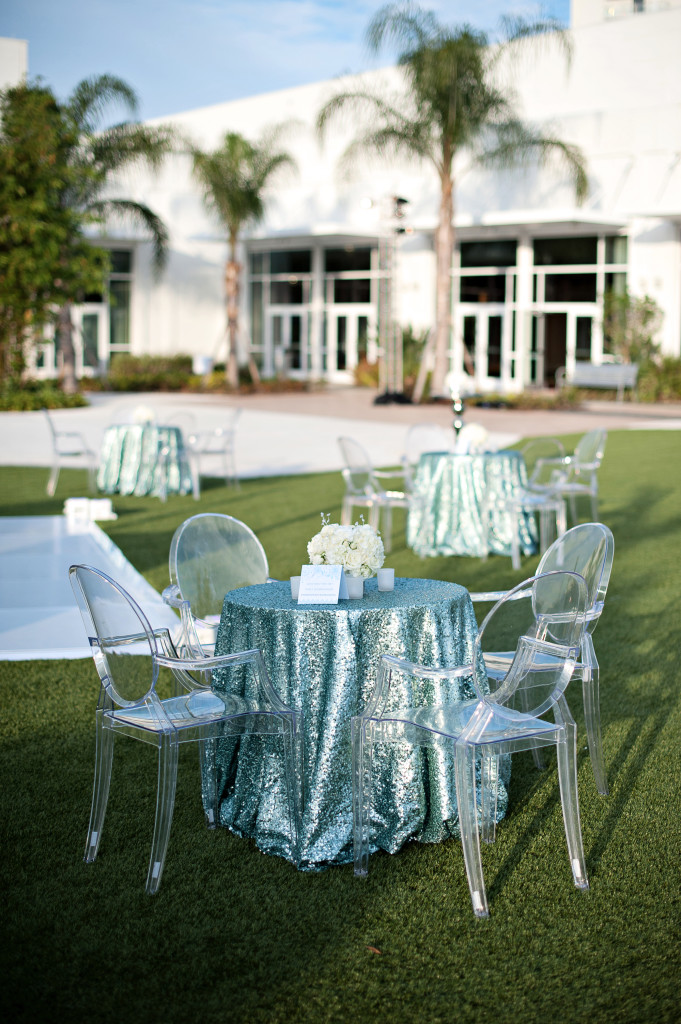 Nuage brought in our icy aqua with full sequin linen and we paired it with AFR's ghost chair.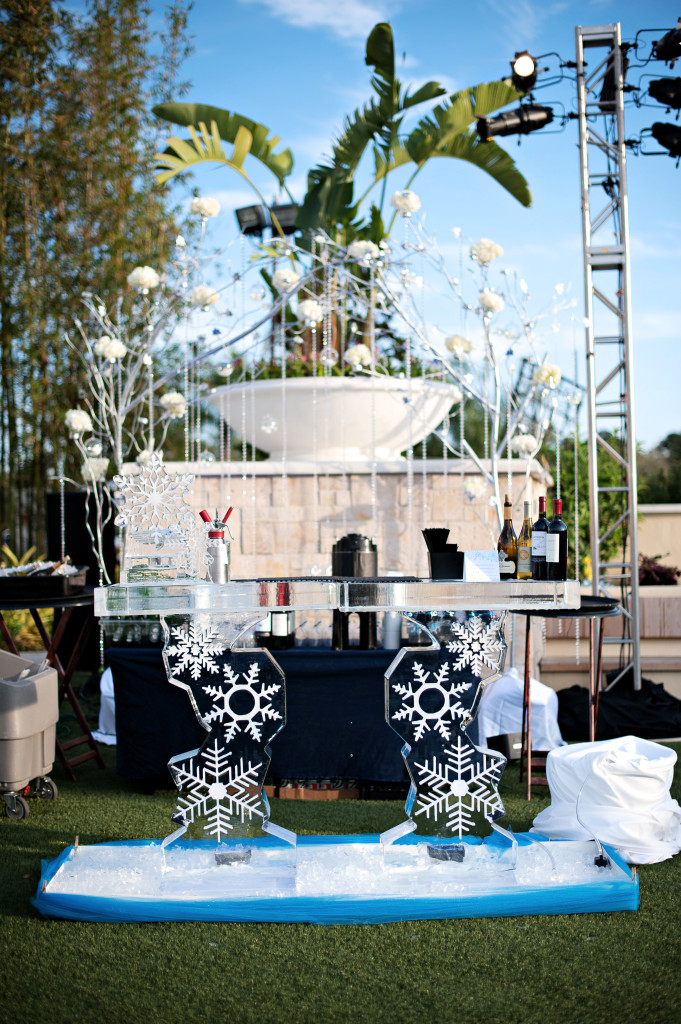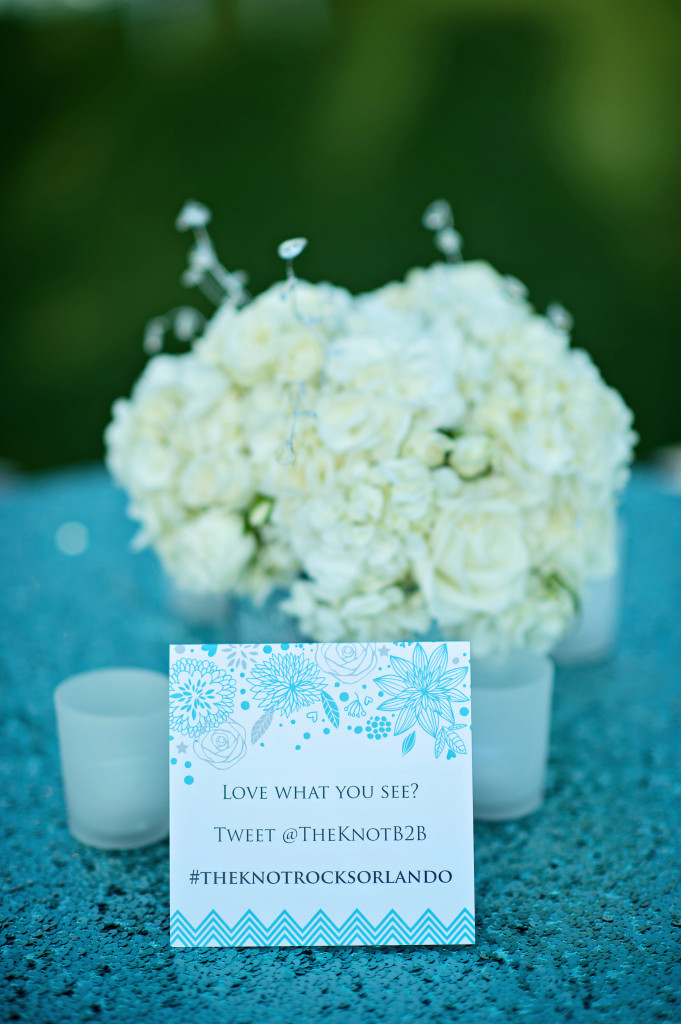 As the party went on, so did the food. We were told that this was the most amount and best quality of food at a Knot Market Mixer that Orlando had ever seen. Professionals in the industry were "oooh- ing" and "awwww-ing" all night long. The service was hands down the best ever as well! If you are foodie- then you will enjoy these next series of photos of nom noms.
Signature Chandeliers put so much sparkle into our tent and dazzled the night.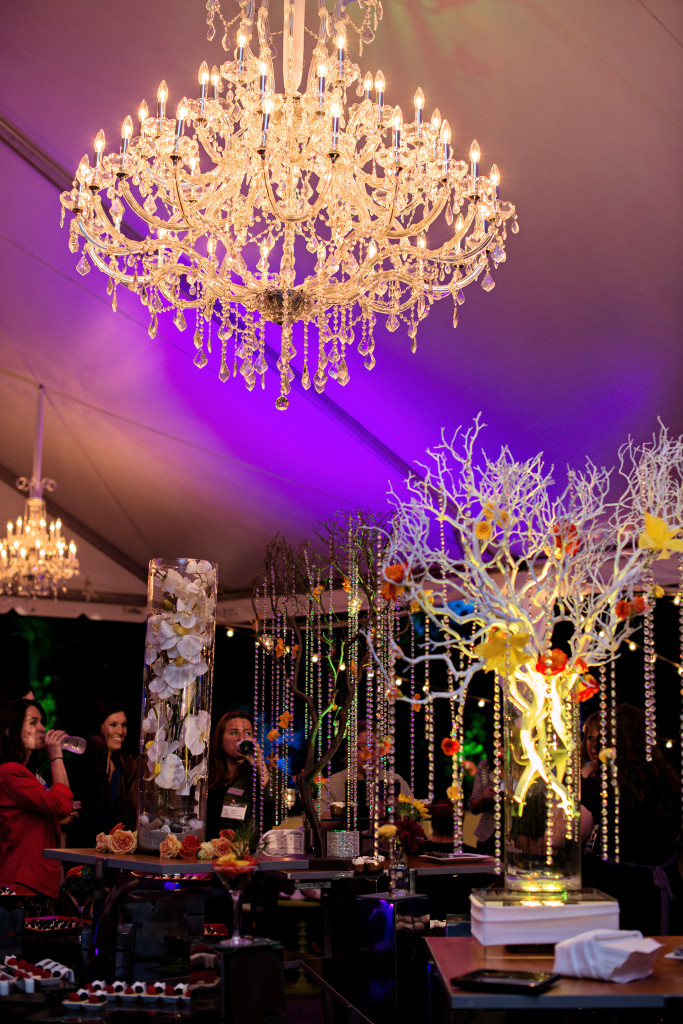 General Manager, Doug Gehert, of The Hilton Orlando welcomed everyone to the party they hosted. What an amazing hotel and team!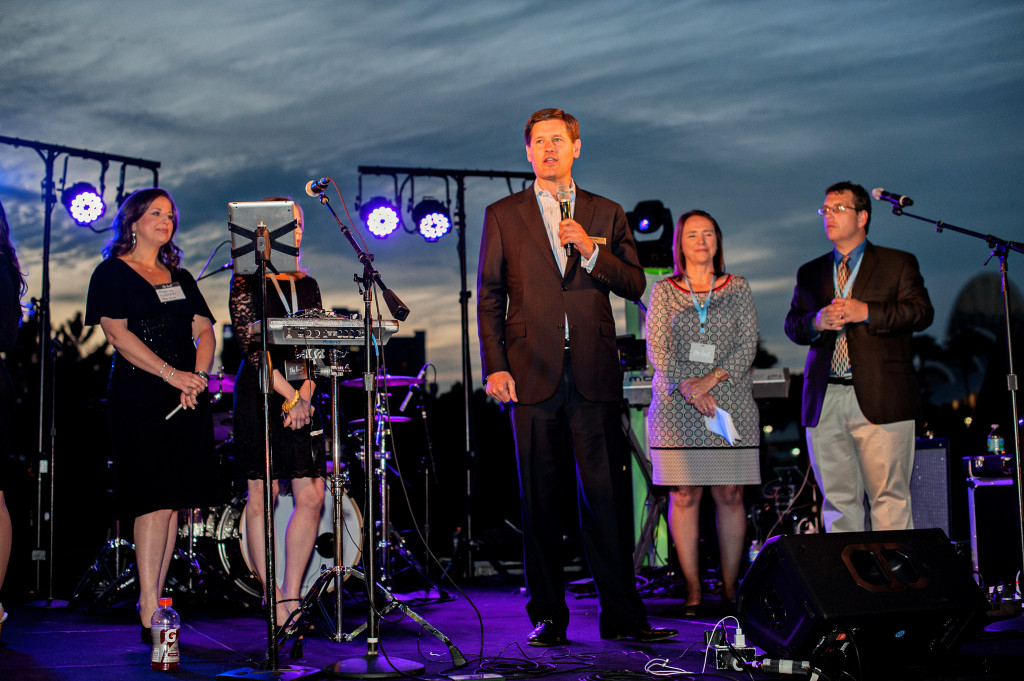 The Knot team with An Affair to Remember ladies; Lisa, Kristen and Rachel.
Our ladies, Claire, Hope and Brittany! Such pretty girls!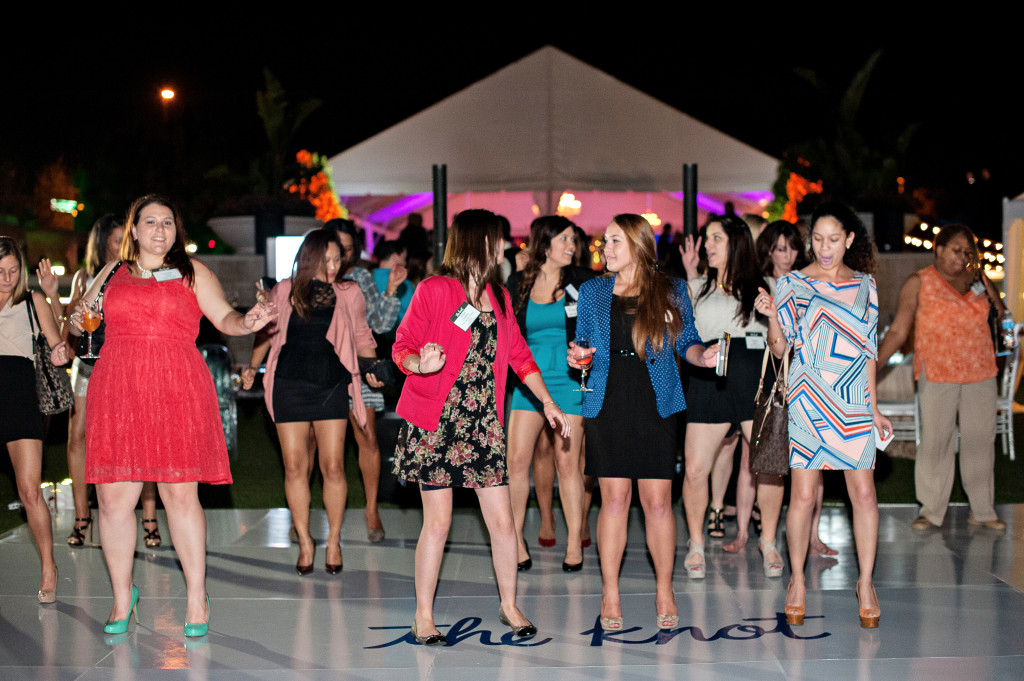 Leonard Brothers and DJ Jacob Towe collaborated and made one awesome dance party on top of That's a Wrap custom dance floor.
The night ended in a literal bang with fireworks of The Knot logo as well as a full production show to end the night.
Having been in business since 1999 we were proud to partner with such professionals and bring to the industry a night of pure magnificence that could be enjoyed instead of worked. We enjoyed every space planning detail that went into design that brought on such a fabulous night.We put as much heart and thought into each event we plan and were delighted to plan one for our fellow vendors.
THANK YOU to all that came out and for those who did not, well, as you can see you missed the best Market Mixer yet!  Keep up the good work as The Knot supports it's sponsors and YOU!