I feel like our brides (and their parents) are always surprised with how much a wedding cost! After getting the dress, and picking your vendors the costs add up! In fact, 50% of couples spend more on their wedding than they budgeted for. So how much does an average wedding cost in 2012…..$27,000!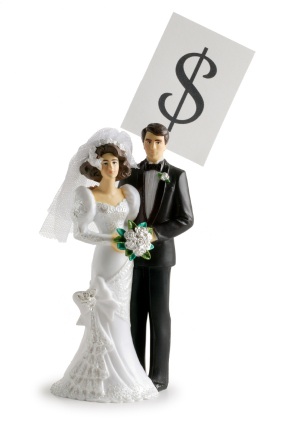 Here are some more averages for weddings!
Wedding Dress: $1200-This would be for your average dress, if you want a designer or lots of embellishments
then the cost would be higher.
Wedding Cake: $600
Wedding Ring: $7000-This is for the engagement ring and wedding band for the bride. The groom's ring is an average of $400.

Wedding Planner: "Day Of" wedding planners are an average of $1800 and full service wedding designers are around $4000.

Photographer: $2400

Officiant: $250
Band: $3200
Flowers :$3000
DJ: $800

Venue: $2000

Videograher: $1600-If you are looking for a basic wedding video, if you want a cinematic videographer the cost will be slightly higher.

Invitations: $400-this also depends on how many guests you have

Caterer: $85 a person-this is for a a basic menu…appetizers, salad, entree, and basic dessert.

Favors: $250
To make you feel better, here are the costs of some of the most expensive weddings…
Kate Middleton and Prince William: $34 Million