Black Swan Wedding
Part 3 of our Stylized Shoot; Black Swan
As we continue our series of stylized shoots we wanted to end at the Black Swan.
Our most favorite things about this shoot are the mixtures. The white up against black, the mirrors mixed with the candle light, and the over depth that all of these mixtures create. There is something to be said about the simplicity of glass, candles, and reflection. This idea was actually from the movie Black Swan. The movie went to a very dark side of beautiful and it was hypnotizing while still being elegant.
Some are afraid to use darker colors on an elegant event, our advice to you is to go for it but be sure to have reflective surfaces through all of your elements. Do not be afraid of sparkle, you can see here it's not so much a birthday as it is extreme sophistication. No wonder Grace Ormande Magazine picked up this shoot in print. Enjoy!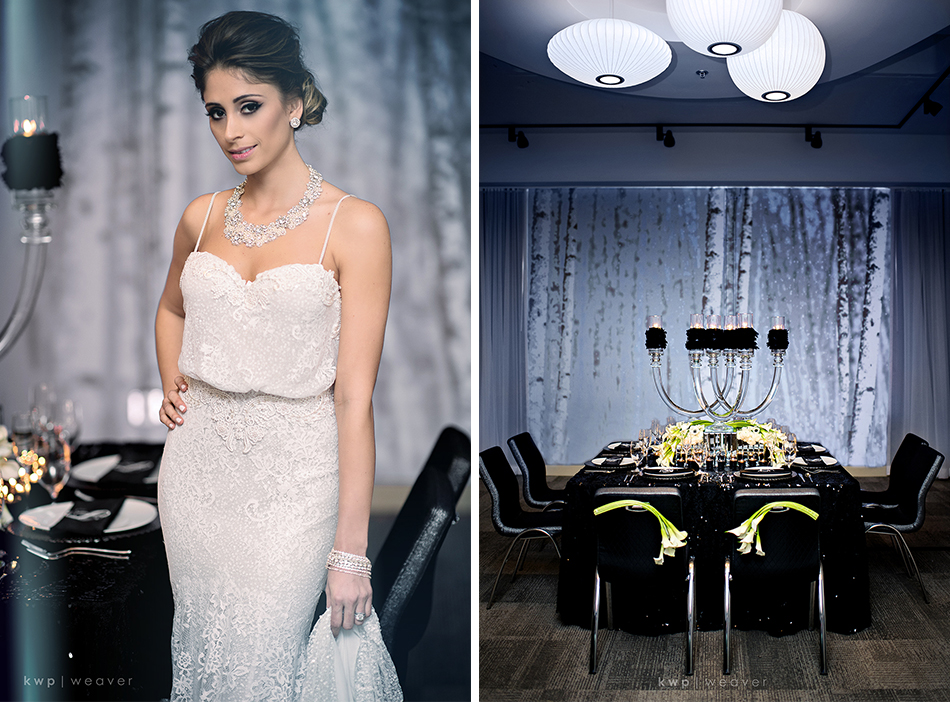 This gorgeous Berta gown was the perfect reflection of our shoot. The styling of the dark smokey eye with the jewels all around her face are stunningly perfect. From feather wrapped glass candelabras to the callas that draped into a spilling effect onto the table… this table is perfectly set, ready for her debut.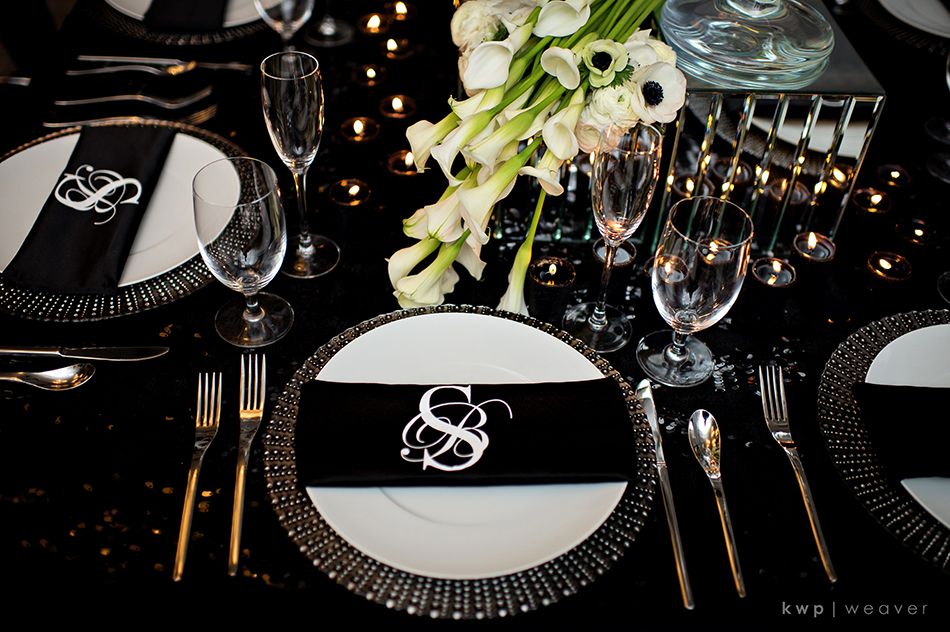 All stemware/flatware/china are the Aloft hotel downtown Orlando. We loved the modern flare of it  paired with the deco charger from A Chair Affair wrapped in a black satin napkin that gave contract to the full sequin linen. Vinyl monogram from That's A Wrap!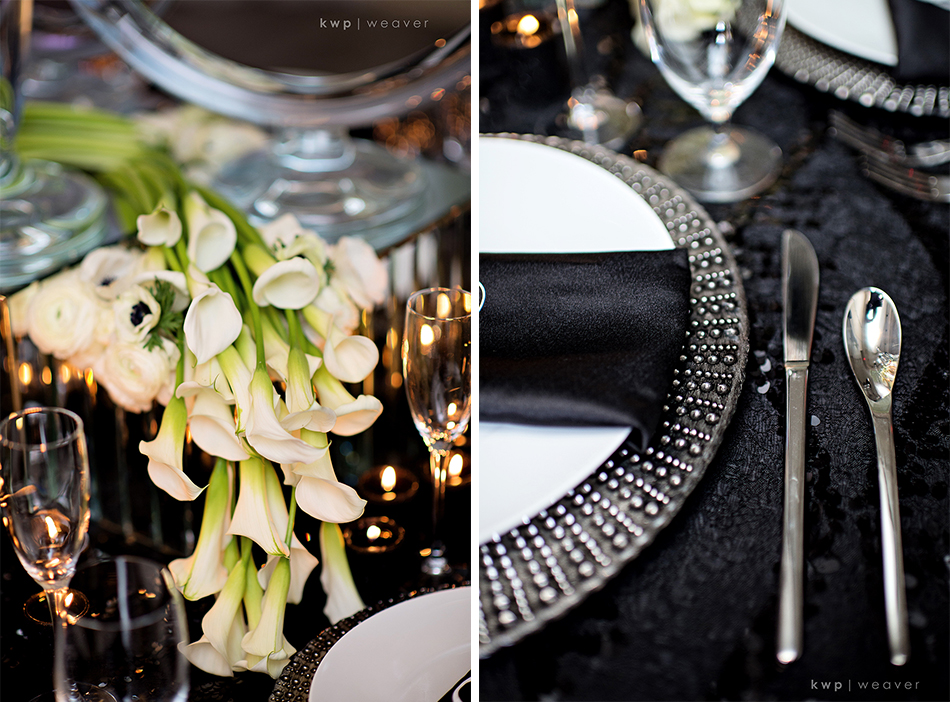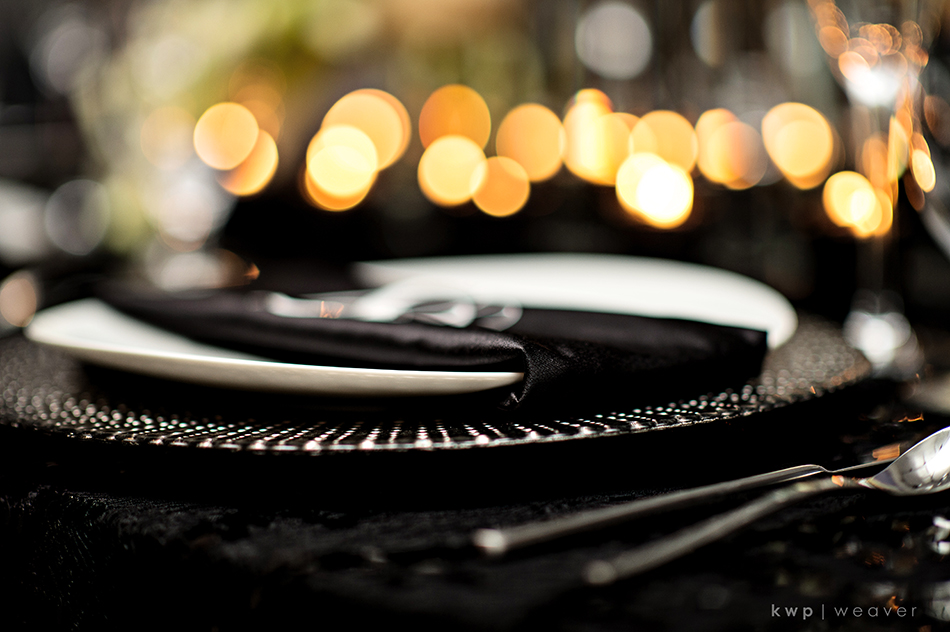 The charger seen here was had just enough masculinity to balance the sparkle linen that draped the entire table. The balance was needed and also tied in the brightness of the flatware.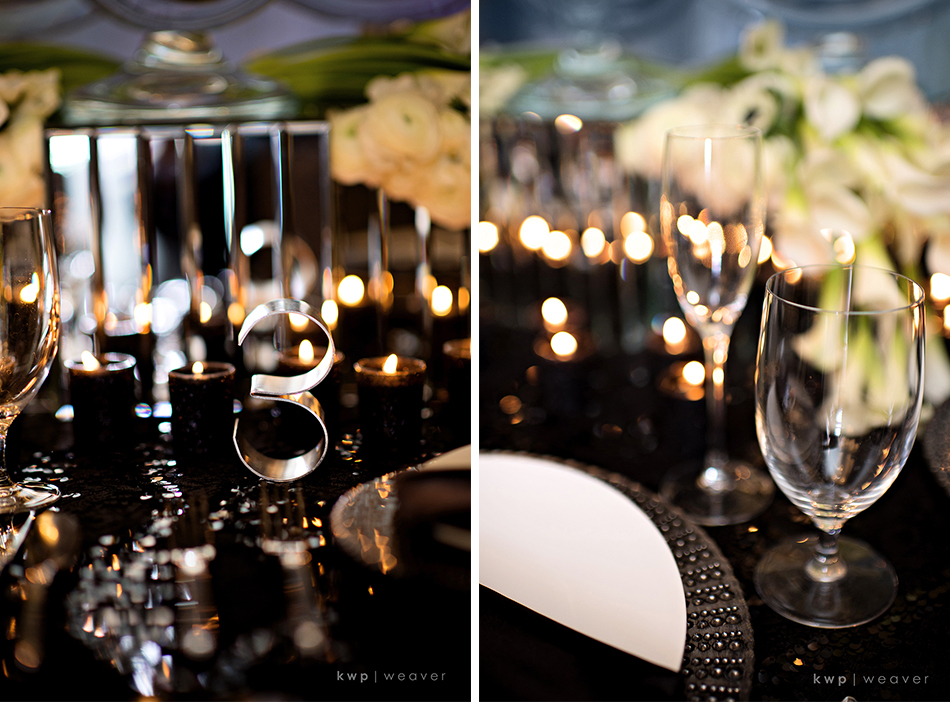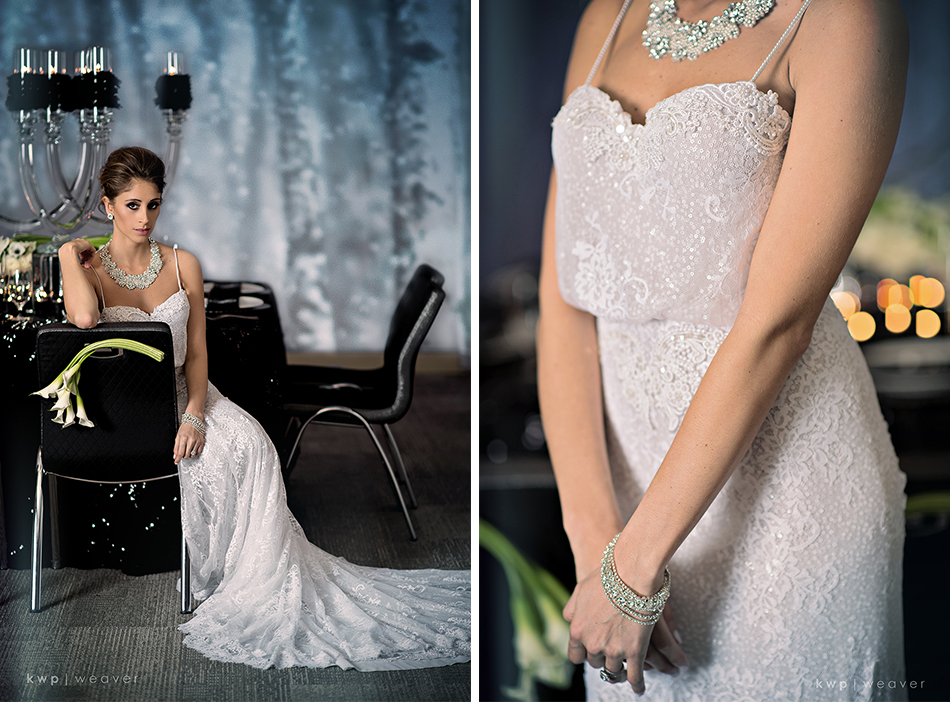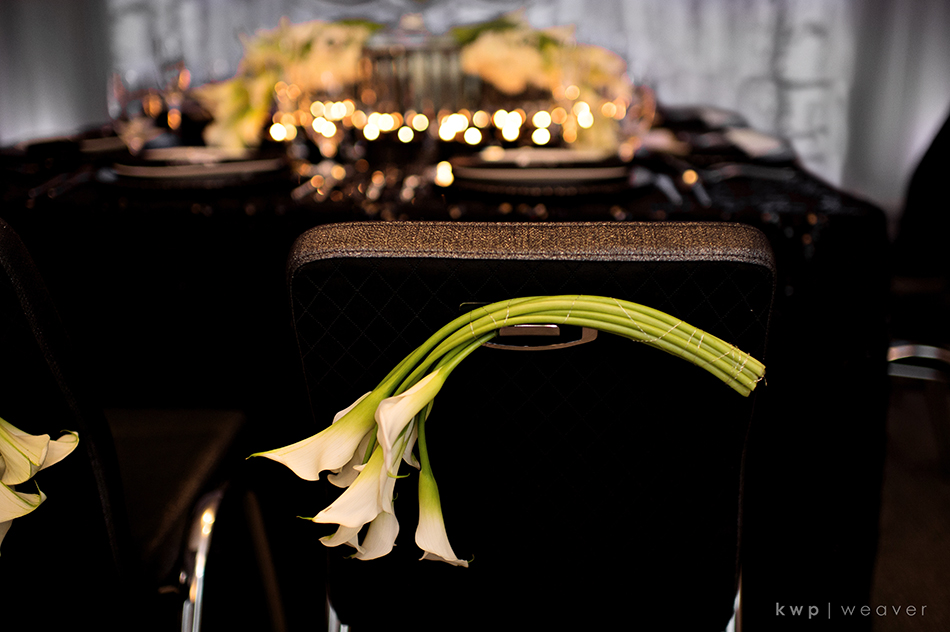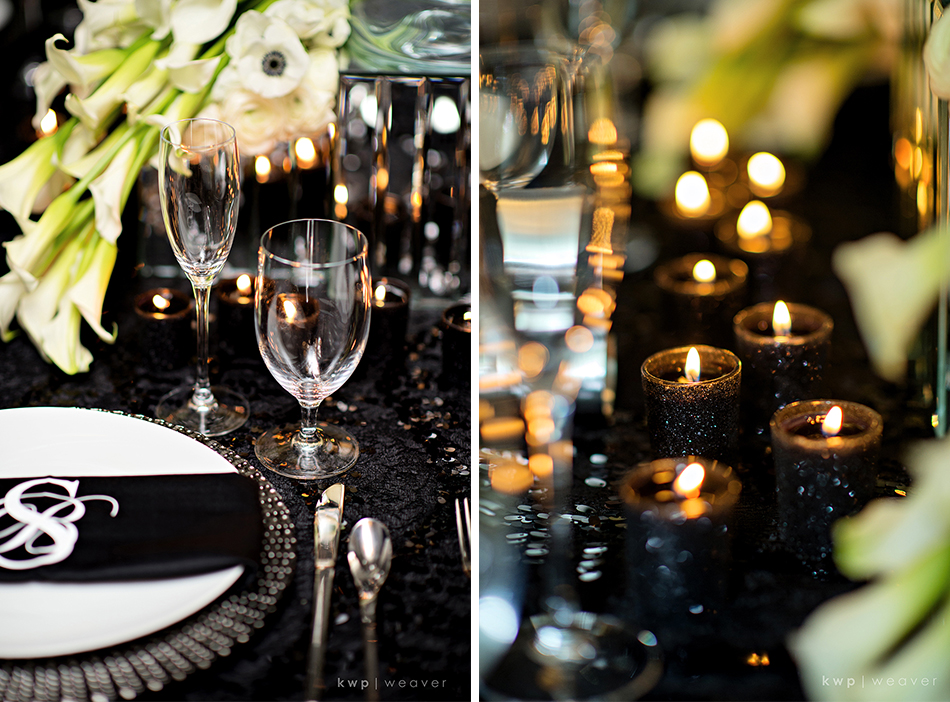 We cannot say it enough, candle light, candle light, CANDLE LIGHT! Pair this is mirrored container and you have romance in an instant!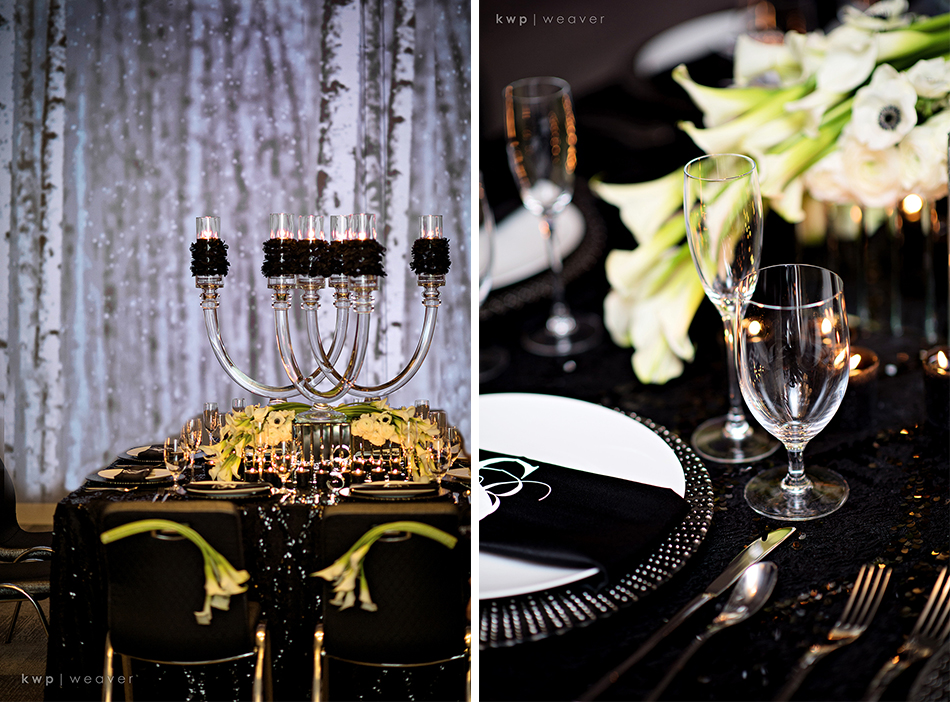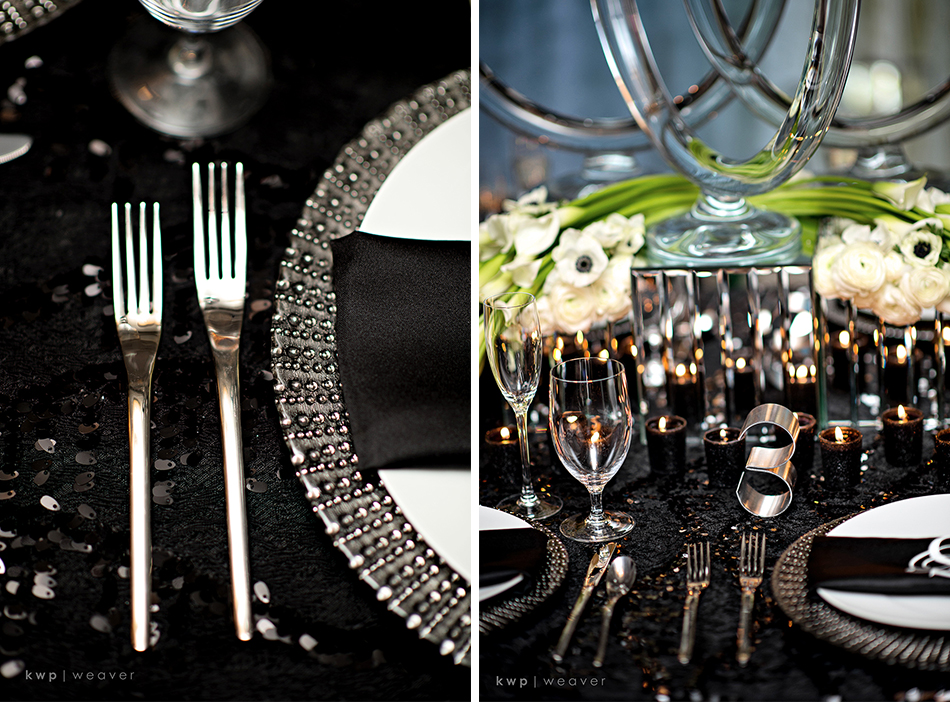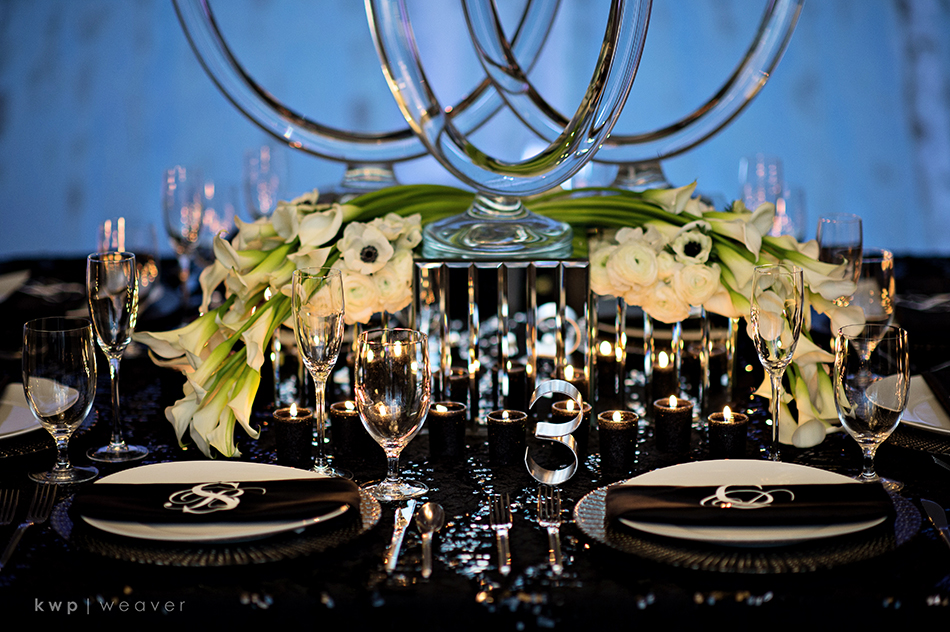 Callas with anemones and ranunculus that bends onto the place settings are a reflection of the bending of the glass candelabras and give this table the ultimate eye candy. Have your guests' eye always moving with something new to look at with every turn. Just be sure to make it all flow and think about balance.
I think that Natalie Portman would even agree that this table is perfectly suited for the Black Swan inspiration. How the table has motion without moving, how the architecture is subtle yet speaks volumes, and how YOU are moved when you see this table is what inspires us all! Thank you to all of our amazing vendors that made this possible!!! Perfect design for a Black Swan Wedding
Photographer: Kristen Weaver Photography
Event Planning: An Affair to Remember
Event Design: Kristen Johnson, An Affair to Remember, Orlando; and Miguel Torres, Blooms Inc., Miami
Floral Design: Miguel Torres, Blooms Inc., Miami FL
Lighting Production: DJ Jacob Towe, Jacksonville FL
Editorial Video: Seltzer Films
Linens: Nuage Design
China: Dishie Rentals
Chargers, Chairs, Table Number: A Chair Affair
Cake Artist: The Sugar Suite
Venue: Aloft, Orlando FL
Gowns: Berta Bridal
Accessories: Erin Cole from Solutions Bridal, Orlando
Bridal Salon: Solutions Bridal Design, Orlando FL
Hair and Makeup: Jillian Caro
Model: Ananda Patel